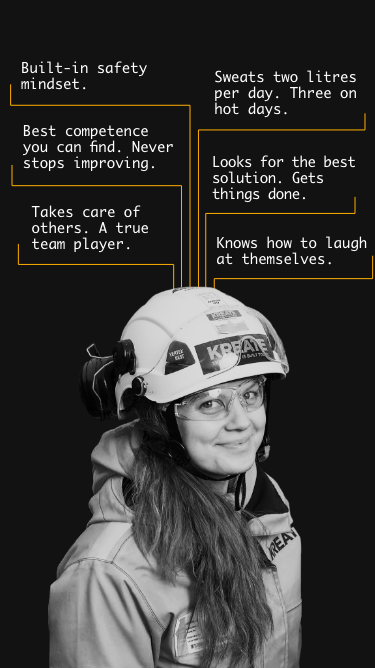 Why you should come and work for us?
When we say we are pioneers in the infrastructure sector, we mean it. This is why we look for people who do not just follow the mainstream but also challenge themselves each and every day.
We want to be a particularly good employer to particularly great people who look at things in a new way and want to do their best. Give us your excitement and skill set and, in return, we will offer the right tasks for you as well as opportunities to grow and develop. We provide good training and career opportunities as well as competitive perks.
Kreate in brief
The Kreate Group's yellow-and-black ranks comprise some 400 professionals who work in various positions ranging from infrastructure construction to administration. We work around Finland in challenging projects, and our offices are located in Tuusula, Tampere, Lappeenranta, Joensuu, Seinäjoki, Kouvola and Oulu. Our associated company KFS Finland Oy has offices in Vantaa, Hämeenlinna, Lappeenranta, Vuokatti and Vihti. Our 2018 turnover amounted to approx. EUR 200 million.
Do you want to join the Kreate team?
Among others, we are looking for construction managers, site managers, site engineers and supervisors for our constantly growing team. Please note that persons applying for site management positions must be able to communicate in Finnish. Give us a shout!