Kreate as an investment | Strategy and objectives | Operating environment | Strengths
Kreate is one of Finland's leading infrastructure sector companies focusing on demanding infrastructure construction. Kreate's offering consists of transport infrastructure construction, including railway, road and street construction, as well as engineered structures, including bridge construction and repair, foundation and concrete engineering, ground engineering and rock engineering. In addition, the company provides services related to the circular economy.
Kreate aims to be one of leading implementers of demanding infrastructure construction projects in Finland offering well-functioning comprehensive solutions for demanding infrastructure construction projects based on its broad know-how and service offering. Kreate has operations mainly in Finland. Kreate's head office is located in Tuusula, Finland, and it has offices in Tampere, Hämeenlinna, Lappeenranta, Joensuu, Seinäjoki, Kouvola, Oulu and Vantaa.
Strategy and objectives
Kreate aims to be one of leading implementers of demanding infrastructure construction projects in Finland. Kreate has demonstrated its ability to grow profitably and it has successfully expanded into new business areas of infrastructure construction. Kreate intends to continue offering well-functioning comprehensive solutions for demanding infrastructure construction projects based on its broad know-how and service offering.
Kreate strives to be the most attractive workplace in the industry and maintain an entrepreneurial spirit in its activities.
Kreate's financial targets
Kreate's Board of Directors has set the following financial targets in connection with the listing. The financial targets are forward-looking statements and are not guarantees of Kreate's financial performance in the future. Kreate's actual future results may differ materially from those expressed or implied by these forward-looking statements as a result of many factors.
Kreate's Board of Directors has set the following financial targets:
Net sales of EUR 300 million in 2024 through a balanced combination of organic growth and selective bolt-on acquisitions;
EBITA margin of above 5 per cent in the medium term; and
Net debt to EBITDA below 2.0x.
Kreate's strategic cornerstones are the following:
Positioning in growing market segments
Kreate aims to leverage its good market position and improve its market position in the segments of their Core Market that especially benefit from the increase in complexity of infrastructure construction, such as projects in demanding urban environments. Kreate aims to continue to focus on the execution of demanding infrastructure construction projects in the future.
Strengthening and expanding the customer base and the service offering
Kreate's strategy is to expand and strengthen its customer base and service offering. The company sees growth and expansion opportunities in in different sectors, such as municipal technology, large commercial ports and waterways, technical works of railways and light rail solutions, construction of streets in demanding urban areas and wind power park projects.1
Supporting the strategy with selected acquisitions
Kreate has successfully executed acquisitions that have complemented its expertise. Acquisitions are primarily seen as means of expanding and supplementing Kreate's current capabilities. Kreate focuses on profitable and financially healthy companies whose culture, strategy and values are compatible with Kreate. Further, Kreate aims to complement its offering with new expertise through acquisitions. In acquisitions, it is also important that the acquired company operates in an attractive segment that supports Kreate's growth opportunities.
Supporting profitability by improving the operational efficiency
Kreate has managed to maintain its profitability on a good level despite the strong revenue growth. This has been enabled by Kreate's competent personnel, capability to win tenders, wide co-operation between the business areas and efficient processes. Kreate aims to continuously to improve its operations and efficiency and prepares annually an operational action plan in which it identifies the main areas for developing the efficiency of operations during the following year.
[1] Source: Third-party Market Study (Market size and position).
Operating environment
Kreate operates in infrastrucutre constrcution market in Finland focusing on projects requiring specialised technical expertise. Kreate expanded its operations into Sweden in 2022, where the company's focus areas are demanding rock and tunnel construction.
The construction industry has faced three crisis periods in two years: First, the COVID-19 pandemic took its toll on the economy and the operations at construction sites through different restrictions. Then, the Russian invasion of Ukraine caused price increases and availability issues with construction materials. And, now, we are facing inflation accelerated by the energy shortage and an economic downturn. The global changes are rapid, and the challenges relating to the environment, well-being and the economy are growing. However, the rapid changes in the operating environment also provide opportunities and, by working together, the entire construction supply chain can accelerate the green and digital twin transition by finding solutions for even more sustainable construction.
The long-term trends impact the world and will provide direction for infrastructure construction in the coming years. The importance of public transport infrastructure will grow with the requirement of carbon neutrality, new procurement models will become increasingly common and the green twin transition will focus on the circular economy and digitalisation. Despite the migration and multi-location working driven by the COVID-19 period, the densification of city centres will also continue in the future. Kreate is responding to the changing operating environment by finding new solutions, deepening its expertise and using its diverse competence for the good of the customer.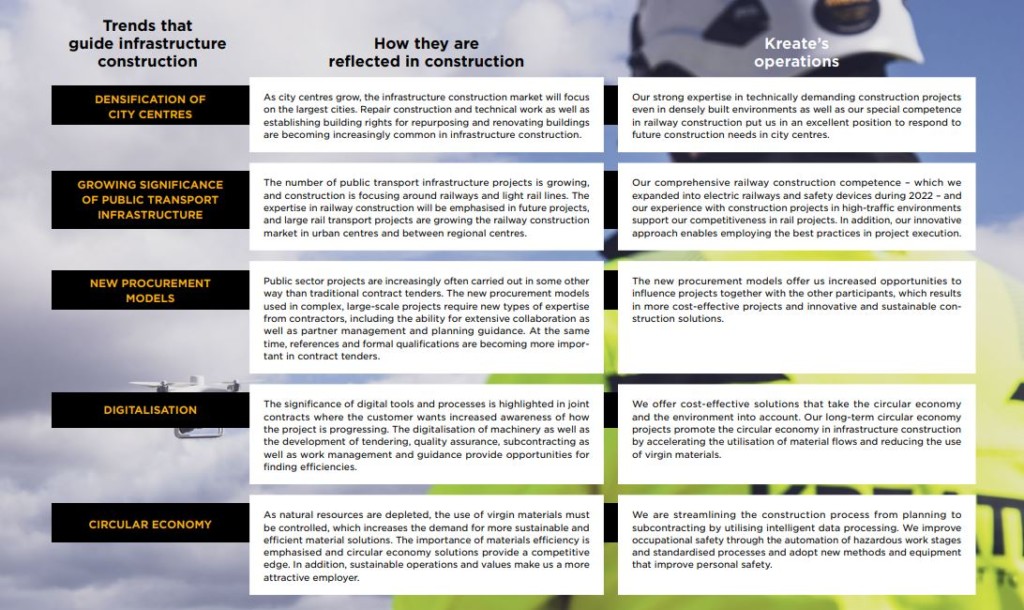 Strengths
Kreate strengths are a stable market, differentiated offering, impressive references, satisfied customers, skilled and motivated employees, strong financial profile and resilient market.
Large market with stable growth prospects
The size of the Infrastructure Construction Market in Finland was EUR 6.6 billion in 2019, and it grew approximately 3.5 per cent per year during 2000–2019. The development of the market is expected to remain stable and the market is expected to grow 0.8 per cent per year on average to reach EUR 6.8 billion in 2023. In the coming years, the demand in the market will mainly be driven by urbanisation, the large renovation debt and the public sector stimulus plan. Furthermore, the growth in the coming years is expected to be driven by the land use, housing and transport agreements as well as the Finnish 12-year national transport system plan (from 2022 onwards).1
Broad and differentiated offering meeting customers' needs
The complexity of infrastructure construction projects is increasing as a result of urbanisation. Construction in already built and crowded urban environments makes the work more demanding, as existing buildings limit the space available. In addition, construction in urban areas usually takes place in areas with demanding soil and surroundings, underground or high above the ground.2
The management believes that Kreate's broad and differentiated offering gives it a competitive advantage in projects requiring versatile special competencies both in infrastructure construction and in the implementation of complex projects.
First-class references
Kreate has first-class references from demanding infrastructure projects and experience in highly demanding projects that, according to the management, only few of its competitors have. Kreate's management believes that previous successful references will provide Kreate with a competitive edge also in the future, as the references are highly significant in the industry for winning new large projects.
Satisfied customer base
Kreate's customer base is diverse and consists mainly of stable public sector customers. Kreate's customers, both in the private and in the public sector, are satisfied with the services Kreate provides. This is demonstrated by Kreate's very high NPS index. Kretae's score is 71 points, whereas Kreate's competitors score is 15 points on average.3
Kreate is an attractive employer
Kreate's management sees Kreate as an attractive employer for the best employees in the industry, and believes that this to bring a competitive edge, as competent personnel play a key role in Kreate's business and in achieving profitable growth. Kreate has succeeded in achieving a good and steadily rising eNPS index4 among its employees.
According to Kreate's management the central factors that help Kreate to attract and retain top experts in the industry are an entrepreneurial spirit and agility, professionally challenging and versatile work assignments, clear career paths and an attractive incentive model.
Experienced personnel
Kreate's competent personnel has experience in hundreds of diverse and demanding infrastructure projects across Finland. During the six-month period ended 30 June 2020, 50 per cent of Kreate's white-collar employees were engineers, 24 per cent were master builders and 12 per cent had other Master's degrees.
Kreate's skilled own employees usually carry out the most challenging tasks in the projects, while subcontractors are used mainly in repetitive tasks. According to the management, Kreate uses less subcontracting compared to several of its competitors, which enables better visibility and project management at the construction sites.
Efficient operating model
Kreate has efficient processes which are based on professional project management, work planning and scheduling enable efficient utilisation of the workforce and fleet. Special expertise and specialised fleet also travel to different projects across Finland when necessary. Further, Kreate's management also believes that consistent operating methods enables the organisation to execute projects efficiently. Since 2017, approximately 95 per cent of Kreate's projects, as measured by their value in euros, have been profitable.5
Kreate is selective when deciding on which tenders to participate in. Kreate focuses particularly on tendering on technically complex projects or projects that require special skills. Kreate's tendering capabilities are on a high level, which helps Kreate to win tenders while maintaining good level of profitability in the projects.
Strong finances
Kreate has enjoyed strong revenue growth and maintained its profitability and return on capital on a good level. Kreate's profitability and growth rate have exceeded the average of its competitors. Kreate's return on capital employed has been strong at 17,6 per cent on average in 2018–2019. Kreate's cash flow has been strong, as its profitability has been at a good level and its business model does not tie up a large amount of capital.
[1] Source: Third Party Market Study.
[2] Source: Third Party Market Study.
[3] Source: Third Party Market Study. Source: Third-party Market Study. Net promoter score. Score range -100–100. The index measures the willingness of the customers to recommend the company to their friends or colleagues. For Kreate, N=31. The median of the competitors comprises four competitors, N=64 (on average, N=16)
[4] eNPS, Employee Net Promoter Score. Score range -100–100. The score is based on the employee satisfaction survey conducted by Kreate. The employees of Kreate's joint venture KFS Finland have participated in the survey.
[5] Excluding projects started before 1 January 2017, projects which are not completed, environmental construction projects (discontinued service, small works, crushing works and internal projects (N=338) projects.